APOYONLINE STRATEGIC PLAN 2021-2026
APOYOnline is proud to present its 5-year Strategic Plan (2021-2026) with the theme: Connect, Empower, Transform. This Plan that will serve as a road map for current and future activities of the organization. The goals will guide us to create services to our community and ensure our continued organizational effectiveness and sustainability.
We will continue working WITH the community, FOR the community, and THROUGH the community to better care for our common cultural heritage.
The Mellon Foundation grant received in 2020 facilitated the hiring of a licensed consultant, who guided the Board through this process, under the leadership of the Executive Director (ED). The Board and the entire Core Team worked collaboratively and enthusiastically gathering feedback from our stakeholders and community at large to help us expand our reach into the region, while continuing to appeal to current members.
APOYOnline used several methods to gather quantitative-and-qualitative feedback from our community, including a wide-ranging survey sent to our mailing list and social media followers, one-on-one interviews, individual statements as well as a 360o evaluation of the APOYOnline Board and Core Team.
Connecting, empowering, and transforming people is APOYOnline's LIFE mission. And we thank The Mellon Foundation for helping to make this possible.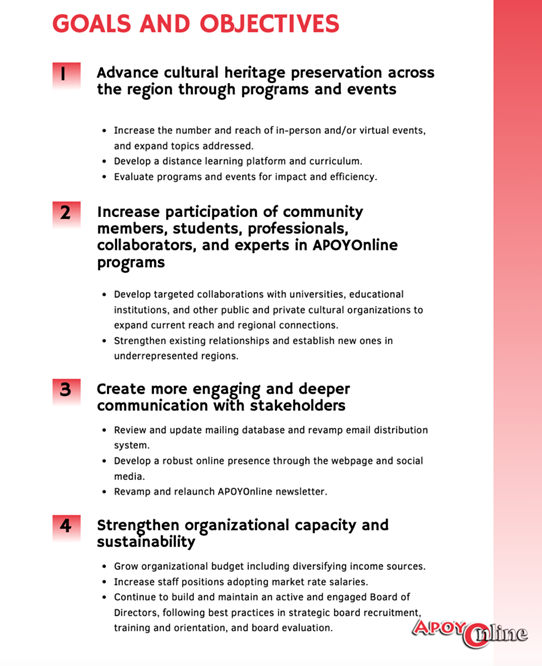 Click here to access the full document.