In 2023 we will have interviews and testimonials with the entire APOYOnline team! To begin with, the #Youngpreservationprofessionals series welcomes Conservator-Restorer Gabriela Lúcio!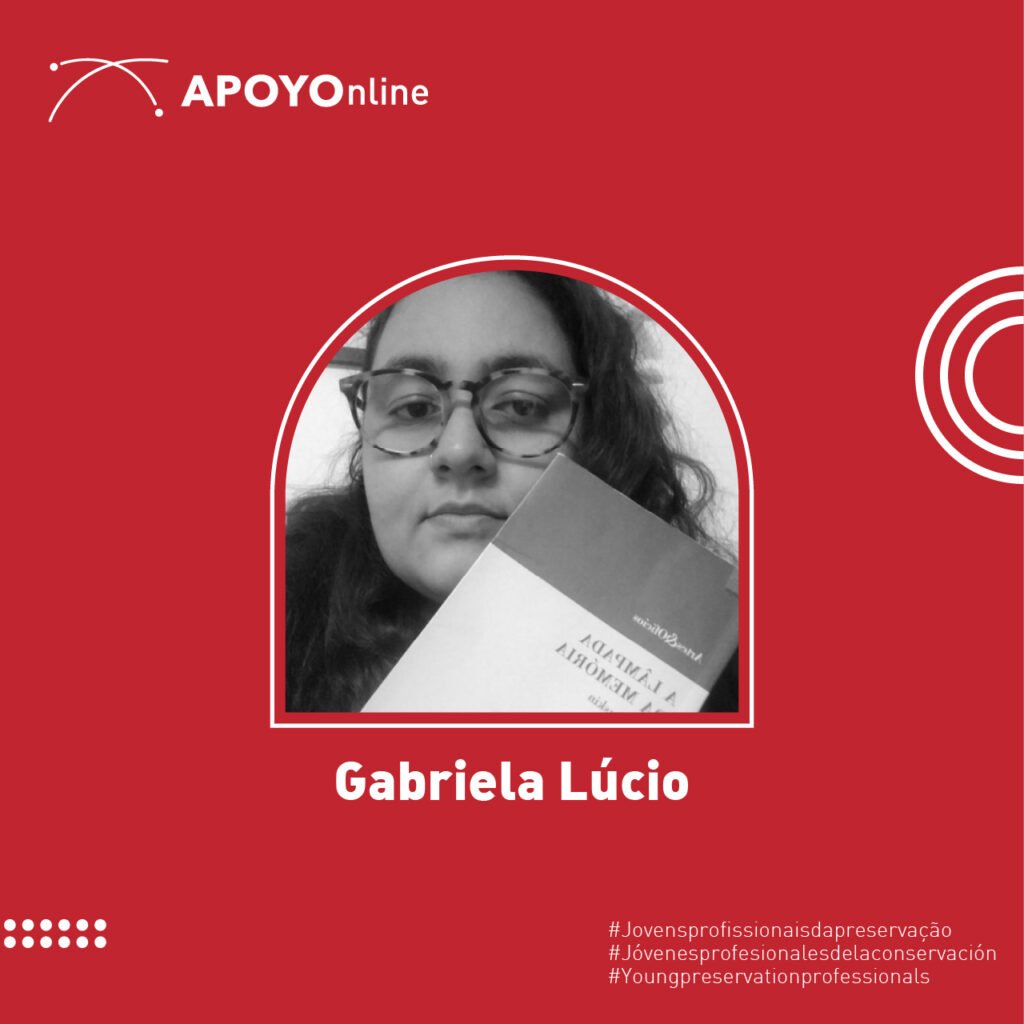 Hi! My name is Gabriela Lúcio, I am a conservator-restorer and I have a bachelor's degree in Conservation and Restoration from the UFRJ, a master's degree in Information Science from the UnB and in 2023 I am starting my doctorate in Museology and Heritage from the Unirio. Honestly, I don't remember the exact date I joined APOYOnline, but it was in the middle of 2019/2020, that is, I've been at the organization for at least three years. I am also Editor-in-Chief of Desvio Magazine and Coordinator of the Commission for the Regulation of the Profession of Conservator-Restorer of Movable and Integrated Cultural Assets and Technician in Conservation and Restoration of Movable and Integrated Cultural Assets (PL1183 /2019).
I am not going to dwell too much on these two works mentioned above, but if you want to understand a little more, I recommend that you read the Dossier recently published in Desvio Magazine on the subject, and the editorial text as well. Resuming my volunteer work at APOYOnline, currently, in addition to other tasks, I took over the production of content for social networks, that is, do you know these posts that you read here? Yes, I write most of them! And of course, it was noticed recently that I am passionate about the history of the Brazilian Carnival, right?
At APOYOnline I saw the opportunity to do some things that I love, such as scientific and historical dissemination through social networks and academic production, in addition to getting in contact with other fellow heritage workers. I believe it is a unique opportunity for young people from the countryside to be in contact with other professionals, in addition to promoting collective work and fostering everyone's personal and professional development.
For young people I see APOYOnline as an incredible opportunity at an international level, and we are always in need of new volunteers, so if you are interested, contact us here on social media! And if you want to talk to me specifically, send me an email: gabriela.lucio@apoyonline.org. Thank you for visiting us and always stay here! Hugs! 🙂